Eaton 5PX UPS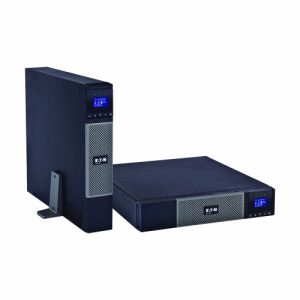 Eaton 5PX UPS features the connection of up to four extended battery modules for maximum runtime and premium backup of your professional and enterprise-grade servers, storage and networking equipment. The 5PX is available in a convertible form factor for use as a tower UPS or rackmount UPS to ensure a perfect fit for a variety of applications. This extended runtime UPS is also available in convenient bundles with a network card and management software for rapid integration into your virtual environment or hyperconverged infrastructure. The 5PX warranty covers both the UPS and the batteries for three years.
Applications include: Enterprise and distributed IT, telecom, retail, banks, IDF, small business, long runtime needs.
Connected equipment may include: Servers (including VoIP), storage, networking equipment, switches (including PoE) and other IT equipment.
POWER RATING
1000-3000 VA
VOLTAGE
120V, 208-230V
Extended battery runtime
Meet individual service level requirements with option of adding up to four extended batteries.
Remote management: notification and alerts for power events
Protect your equipment with the latest updates in cybersecurity
Keep your equipment secure and register your products to receive automated email notifications regarding the latest firmware updates for cybersecurity.
3-year warranty
Comprehensive coverage and support for your UPS and batteries